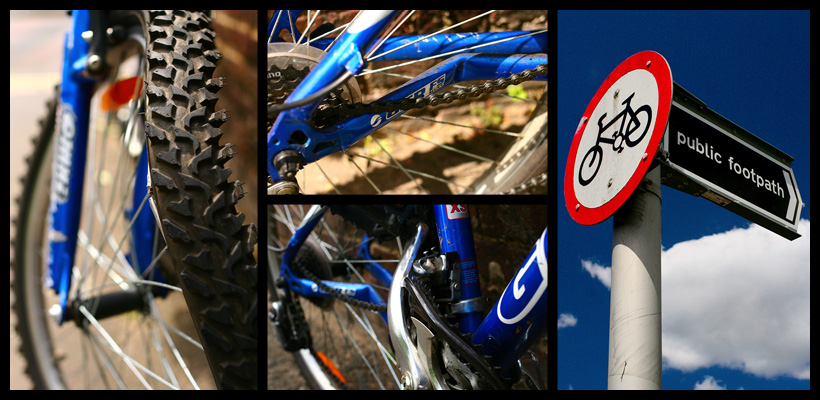 The day I flirted with death
2006-06-22
Today I had an epiphany. As I lay on the ground with a smile, it just hit me: God damn life is fragile!
What you see above is the casualty of the near-fatal accident I was in today. I was coming home from the gym, listening to Tiesto on the Nano, going straight on a green intersection, when all of a sudden this 10 ton lorry (lorry is the British term for our Canadian version of: big ass blanking truck!) violently took a left turn. After smacking on the side of his passenger door like a fly hitting a windshield, the poor bike and I bounced off and went straight to the ground. As I'm falling, I hear the giant tires coming straight into me. Instinctively I roll to the right, and the tires crush the bike into smithereens. My body was so close to being crushed that my foot actually hit the rolling tire before I got out of the way.
After a few moments of laying on the ground, enjoying my epiphany, the truck driver came out shaking like he just saw a ghost. Few minutes later the police arrive, followed by multiple ambulances. At this point my adrenaline is through the roof, so I don't know if I'm hurt or not. The medics get me in the ambulance and do a thorough checkup, and subsequently we all sit around amazed at the fact that I just survived this accident with only bumps and bruises. They tell me stories of how often they deal with similar cases of trucks not seeing bikes in their blindspots, however in most of the cases there were fatalities. After a debriefing, report writing, and casual small-talk, the police urge me to file a claim against the driver to pay for the damages to the bike. The police tell the driver that if I had been killed, we would not all be talking casually, but he would in fact be in jail for negligence.
We all part ways, and I carry the broken bike home. The two mile walk gave me another opportunity to dwell on my epiphany: life is indeed fucking fragile.