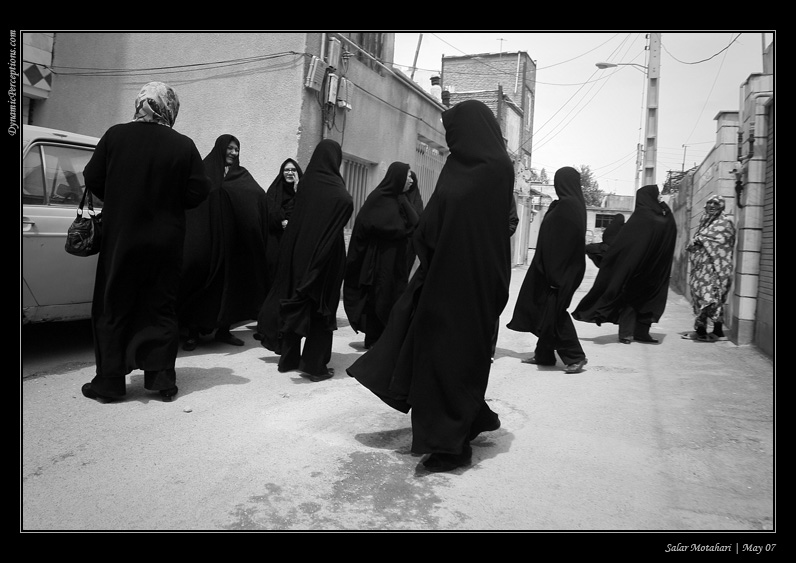 Street celebrations
2007-05-26
Picture 8 in the Iran series.
Not sure if you have noticed this trend in my most recent country series on Iran, but with each picture I'm attempting to delve deeper into the cultures and norms of the environment in as politically correct and visually appealing manner as possible. Hence, I started with the bird's eye view of Tehran, then Iran's visually dominating elements of poverty and religion, and in the past two days: examples of religious moral principles manifested in people's daily lives.
The image displayed above, is a juxtaposition of several of the above-noted elements. In Iran, traditionally when an individual goes to Hajj ("Pilgrimage in Islam, to Mecca, that is compulsory to Muslims of good health and with sufficient funds to make the journey to Mecca"), upon their return they display a large 10 foot sign in front of their house in the street to notify the community of their successful journey, and invite them for the ensuing celebrations. This image displays the supportive community members upon the completion of such celebrations.
Speaking of which, today I celebrate becoming a year older! It's a shame I will not be celebrating the event to its full potential amongst family and friends in Vancouver (my hometown), nevertheless this current experience in Iran is equally valuable.