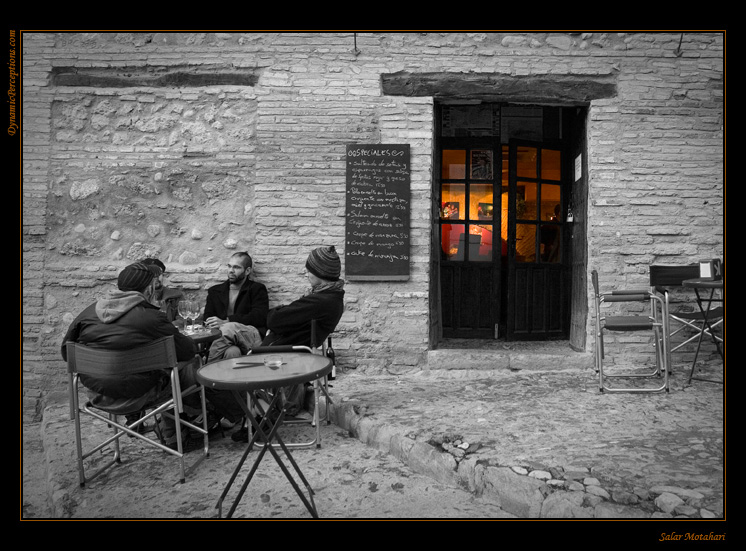 Reservoir
2006-12-29
Picture six in the Spain Series.
Originally we intended to simply stay in the Malaga region, and enjoy the mediterranean sea breeze. But after spending the first night in Malaga, we decided it would be best to absorb as much of Spain as possible. So on the morning of the second day, we rented a car for two days and travelled an acculumated distance of over 700km. Granada was one of the cities we had the pleasure of spending an afternoon in. It's two hours northeast of Malaga, at the foot of the famous Sierra Nevada Mountains. It is known best for its Moorish and Catholic architectural sites, its pomegranate, and wild night life. And what a crazy night life it has. At 3pm there isn't a single soul on the streets; At 5 pm the bars and pubs get filled with students and hippies, and at 9pm the streets are packed with high-spirited, drunken party animals. In every corner of the town there is music, dancing, and singing. Complete strangers stand shoulder to shoulder, humming national anthems, and swaying cheerfully in the streets. Granda had one of the most inviting atmospheres I've ever experienced.
The image you see above is the 'built-up.'
PS: On the drive from Malaga to Granada, we discovered a city called Salar (my first name). For me it was worth a drive-thru since Salar is one of the rarest names in the Iranian culture. Plus driving around the tiny town had the added bonus of experiencing what a small Spanish town looks like. We drove to the town center (which was simply a mechanical water-foundatin) so I could declare my arrival, as prophesized by their kings, to unite the coke drinkers and the pepsi drinkers, but unfortunately there wasn't a single soul in the streets. There were three kids in the corner, but they were mesmerized by a number of pebbles on the side of the street. Clearly, the town wasn't ready. They need more time.