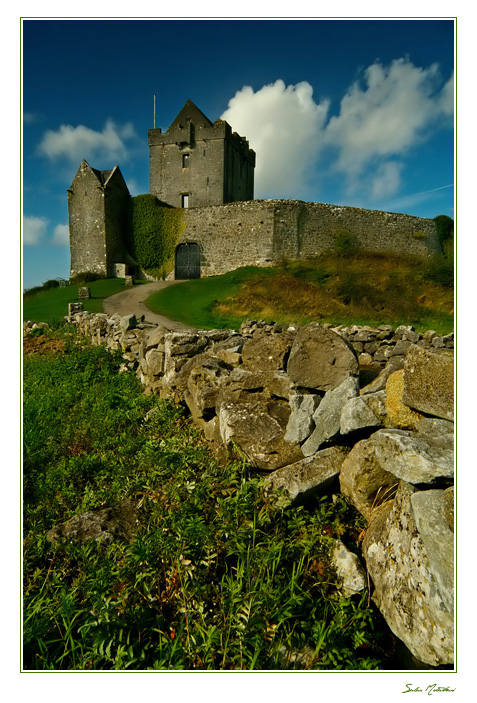 Dunguaire Castle
2006-11-28
Unfortunately my other obligations are pulling me further and further away from photography and this photoblog, so I've been unable to stick to the "almost-daily-updated-photoblog" promise. This of course means that I either stop posting alltogether, or scramble for older, salvagable images. Let's hit the archives, and see how long this'll last!
The above image was captured on my Ireland trip last month. Dunguaire Castle is a 17th C. castle situated just outside the village of Kinarva on the shores of Galway Bay. Frankly, though, this rocky 4-waller can hardly be called a castle. It's so small and cute, that you could comically skip around its perimeter in less than 1 minute. Despite the humble stature, it's apparently the most photographed castle in all of Ireland. That's because most photographers take advantage of the castle's reflection in the Galway Bay by photographing from the opposite side. Being the lazy landscape photographer that I am, I couldn't be bothered to walk the 200 yards, so I just snapped this picture from the road, and raced back to Cliffs of Moher.
PS: I spent some time on blog maintenance today. Recently I was really getting bogged down by bloody spam, so today I installed the Akismet anti-spammer. If you come across any problems while posting, please contact me! Additionally, I put the mouse back on the wheel for the site visitor counter (though it should be at 90k, instead of 50k!), and created a Links page. Feel free to take the time and visit these incredible talents!